Currently we do not have any road closings. However, please pay close attention to any road construction areas, specifically for the posted speed limits and workers that are present.
Remember, MOVE OVER FOR EMERGENCY VEHICLES, it's the law.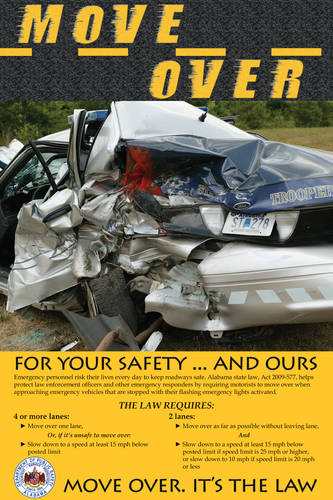 CLICK HERE FOR LARGER DETAILED FLYER
Check back here during incliment weather for further updates on road conditions.
A WINTER WEATHER ADVISORY HAS BEEN ISSUED FOR OUR AREA. PLEASE STAY ALERT TO QUICKLY CHANGING WEATHER CONDITIONS. UPDATED WEATHER REPORTS AND CONDITIONS WILL BE ADDED TO THIS SITE AS POSSIBLE DEPENDING ON ROAD CONDITIONS AND AVAILABLE PERSONNEL. UNLESS IT IS COMPLETELY NECESSARY, PLEASE REMAIN OFF OF ANY ICY ROADWAYS AND BE AWARE OF BLACK ICE CONDITIONS AND BRIDGES AND OVERPASSES. IF YOU ARE OUT AND BECOME AWARE OF DOWNED POWERLINES PLEASE DO NOT APPROACH AND CONTACT AUTHORITIES.
02/15/2015 10:10 pm
The roads are wet at this time and some black ice has been reported on the bridges and overpass on hwy 43. There is also reports of trees falling on some roadways. We are checking on the reports of trees as we can get to them. If you must be out on the highway use extra caution. The Sheriff's Office will open at 10:00 am on Tuesday February 16th 2015 due to weather and road conditions.